Most people rarely think about their heating and cooling systems in their homes until the bill comes and it becomes painfully obvious how costly it is to stay comfortable indoors. That's because it takes 43% of your utility bill on average to stay warm or cool inside your home.
In order to make your energy bills as low as possible, you should first make sure that you choose carrier heating and cooling systems that is as energy-efficient as possible. If your home has an older model system you may want to consider the considerable cost-saving benefits of replacing it with a newer, more energy-friendly model.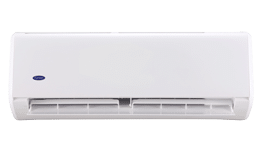 Another option you should consider is to make sure your home is as well insulated as it should be against air leaks. Air can escape from a wide variety of sources that you may not suspect such as windows, doors, walls, floors, and ceilings that are poorly insulated. Even garage doors can be a major source of heat loss if the garage is connected to the home with a door that isn't insulated.
If you are not sure if you have a heating and cooling system that is energy efficient you can always have an HVAC tech come out and test your home's insulation abilities and measure your home's heating loss. They can also help you figure out if your system is the right size for your home and if not what size you need.